Description
Pre-Order
This product will only be manufactured once we hit the MOQ of 500 sets of Super Famicom cases.
Should the MOQ be met. Your card will be charged on July 2nd 2021. You may see an authorization in the mean time.
The estimated delivery of this product, should it meet the MOQ of 500 sets, is the end of August/the beginning of September, 2021. Dates are subject to change depending on the conditions in the world.
Inventory will be ordered according to demand during the pre-order.
Pictures are prototype samples.
Replacement Super Famicom Case – Crystal Clear
It supports Super Famicom with mainboard SHVC-CPU-01, SNS-CPU-GPM-01, SNS-CPU-GPM-02, SNS-CPU-APU-01, SNS-CPU-RGB-01, SNS-CPU-RGB-02, SNS-CPU-1CHIP-01, SNS-CPU-1CHIP-02, SNS-CPU-1CHIP-03. Also PAL versions SNSP-CPU-01, SNSP-CPU-02, SNSP-CPU-1CHIP-01, SNSP-CPU-1CHIP-02. We are trying to increase its compatibility with as many mainboards as possible. The compatibility is not guaranteed.
If the shipping calculator gives you a high quote I recommend getting them straight from Retro Game Restore HERE.
What parts are included?
You would get new designed A (A1+A2 combined into one part) , B and C, three transparent parts which marked in photo below from us. All other parts will need to be sourced from an original Super Famicom.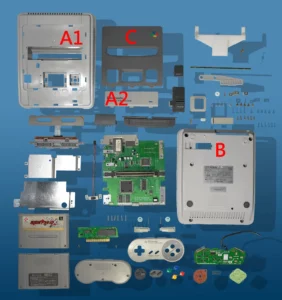 Transparent Cover Pack for North American SNES Cartridge
Please note that this cover pack will only work for the the new shell. The original does not accommodate a North American SNES shell.